Stingose is an Insect Bite and Sting Treatment.
It works to provide fast relief from the pain, itch and inflammation of stings and bites from most insects and plants.
Products

Stingose Gel
Calms and soothes the pain, itch and swelling of most insect bites and stings. Ideal for smaller affected areas.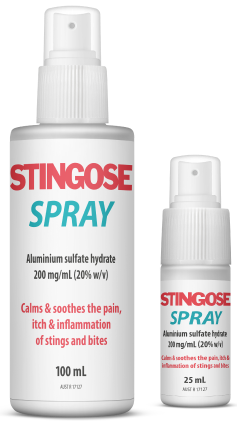 Stingose Spray
Calms and soothes the pain, itch and swelling of insect stings and bites. Ideal for larger affected areas that are sensitive to touch. Spray format offers easy and convenient application for adults and children.
Apply
immediately for fast relief
HOW IT WORKS
Stingose works differently to other insect sting and bite treatments in Australia.
The active ingredient in Stingose acts on the cause of the bite or sting from insects or plants to quickly minimise the pain, itch and inflammation.
The Essential Family Holiday Packing List
Holidays are meant to be relaxing, but there is nothing more frustrating than leaving one of your 'essentials' at home. Here is a helpful list of five essential items to pack when going on your next summer holiday to help you stay healthy and happy, whether you're bush, beach or city bound.
How to Keep Mosquitoes Out of the House
Mosquito bites are itchy and uncomfortable, and can even cause a severe allergic reaction. That's why it's important to mozzie-proof your home: not just to prevent itchy bites, but to ensure your whole family is safe and free from the discomfort of mosquitoes.
Common Types of Insect Bites and Stings
From mosquitos and sandflies to wasps and bees — there is no shortage of insects that bite and sting leaving you itchy and sore. It's important to understand what type of insect you're dealing with, so you can provide effective insect bite treatment, and know when to seek urgent medical assistance.